Welcome to 'Gary Hennessy Breeding'At Kingston Lodge, 'Class A' Trainers License Holder
Karaka Sales - 27th July

We have 3 nice Mares infoal to Tiger Prawn selling at Karaka on Friday 27th of July.
They are all well related mares race winners, dams of race winners on track or 1/2 Stakes winners etc
Lots 2. Ransom Claim
Lot 5 Roxy Lass
Lot 21. Desert Imp.
Also empty mare Lot 14 Testella.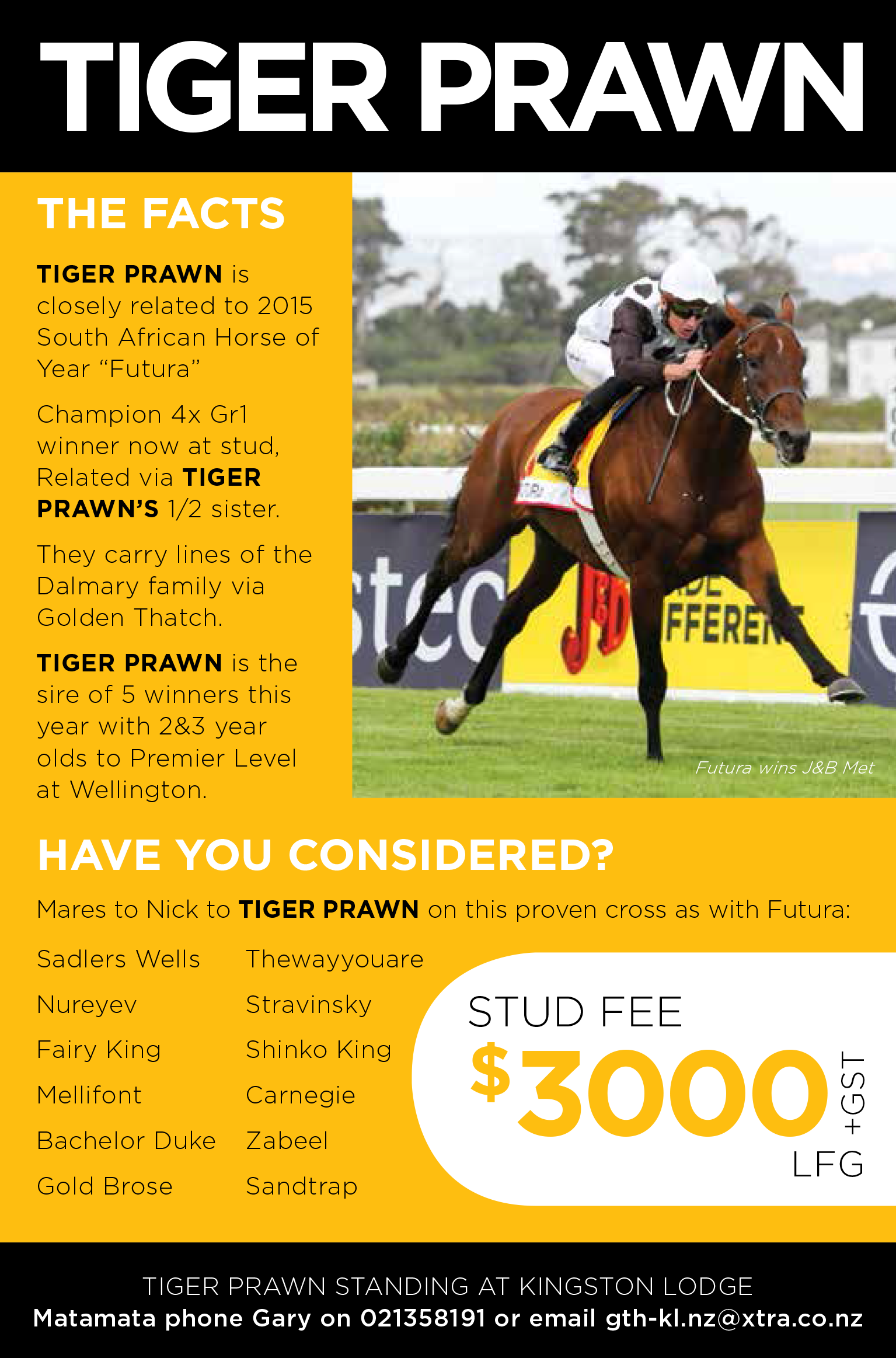 Breeding Operations: Weowna Park
Weowna Park is not far from the Hennessy racing base at Kingston Lodge. Just a few kms by road the 20ha property was purchased purposefully to enhance the Kingston Lodge Matamata facilities and allow an expansion of breeding operations from just a few mares to more than 15.
Those few mares however have produced the likes of: Super Goal Strike (HK),Spare A Fortune and Pindy. Each of whom has their own outstanding race record in NZ and Hong Kong.
Weowna Park is currently being developed by the Hennessy's and carries 15 plus broodmares to support the Sires Ocean Park and Tiger Prawn. The partnership of Andrew Wong, Steve Yan and Gary Hennessy the racing owners of Ocean Park have retained breeding shares in the Sire. Over a period of 18 months the partnership have sourced young suitable mares from Australian broodmare sales, these have come from sires such as Flying Spur, Lonhro, Shamardal, Dubawi, Cape Cross, Stravinsky, Testa Rossa, Pins and Green Desert. All have been Stakes winners, placed or full or half sisters to stake winners from commercial families.
Ocean Park - click here to visit Facebook page

To date 8 foals have been bred by Ocean Park, 5 Colts and 3 Fillies, these have been sent offsite for prepping for next years Yearling sales. 10 mares will foal to Ocean Park this Spring. (2015).
Details of the Stud Fees are available on application from Waikato Stud.
What a horse he was and is, winner of 5 Group 1 Races including the 2012 Cox Plate, a particularly sweet victory and during his career he beat 29 individual Group 1 winners. A promising 3 year old, he rose to dominance in his 4 year old season after winning 4 Group ones in a row and placed 3rd in the McKinnon Stakes (Aust). He was also the New Zealand Thoroughbred Racing Horse of the Year in 2013.
Gary Hennessy part owns and trained Ocean Park throughout his illustrious career and today still part owns the entire as he takes up Stud residence at Waikato Stud (2013).
Tiger Prawn (SAF) - click here to visit Facebook page
By the American stallion Goldkeeper, Tiger Prawn is out of a half sister to the illustrious Americal stallion Storm Cat. Tiger Prawn himself a record holder, still retains today the record at Happy Valley (Hong Kong) over 1200m.
His sire Goldkeeper was a champion sire in Zimbabwe and was 3rd on the Sire list in South Africa. Interestingly some of the statistics on Tiger Prawn show that 80 per cent of his progeny are colts.
Tiger Prawn is closely related to this seasons South African Champion horse Futura - winner of 9 of his 15 starts, four of these at Group 1 level and likely to retire to stud soon.
Tiger Prawn has had a good start he has 3 winners from limited foals and starters.
He currently stands at Hennessy's Kingston Lodge for $3000.00 plus GST.
About
As with his career as a trainer, Gary Hennessy comes from an esteemed 'bloodline' of breeding and has obviously inherited the eye and knowledge for picking the right ones. One of the outstanding ones would be Makarpura Star whom was purchased as a yearling for $1500, he was later sold to and won the HK Gold Cup twice $10millHK., the HK Derby was HK Horse of the Year and the very first NZ horse to be entered into the Hong Kong Hall of Fame. At the time a member of the NZ Thoroughbred Breeders group the purchase choice was made for the double up on both top and bottom lines of his pedigree being Star Kingdom and Makarpura.
History of the Hennessy breeding accolades boasts owning the sire The Ace, in those days owned by Tom Hennessy. The Ace sired Water Line who was the horse that stopped Phar Laps 4 year old winning streak. It was an everyday occurrence for Gary's father to ride the stallion to the farms to serve the mares.


Contact
Gary Hennessy Racing and Breeding, at Kingston Lodge
Address: 320 Hinuera Road, Matamata
Email: info@garyhennessyracing.co.nz
Phone: 021 358 191