Welcome to 'Gary Hennessy Racing'At Kingston Lodge, 'Class A' Trainers License Holder
Karaka Sales - 27th July

We have 3 nice Mares infoal to Tiger Prawn selling at Karaka on Friday 27th of July.
They are all well related mares race winners, dams of race winners on track or 1/2 Stakes winners etc
Lots 2. Ransom Claim
Lot 5 Roxy Lass
Lot 21. Desert Imp.
Also empty mare Lot 14 Testella.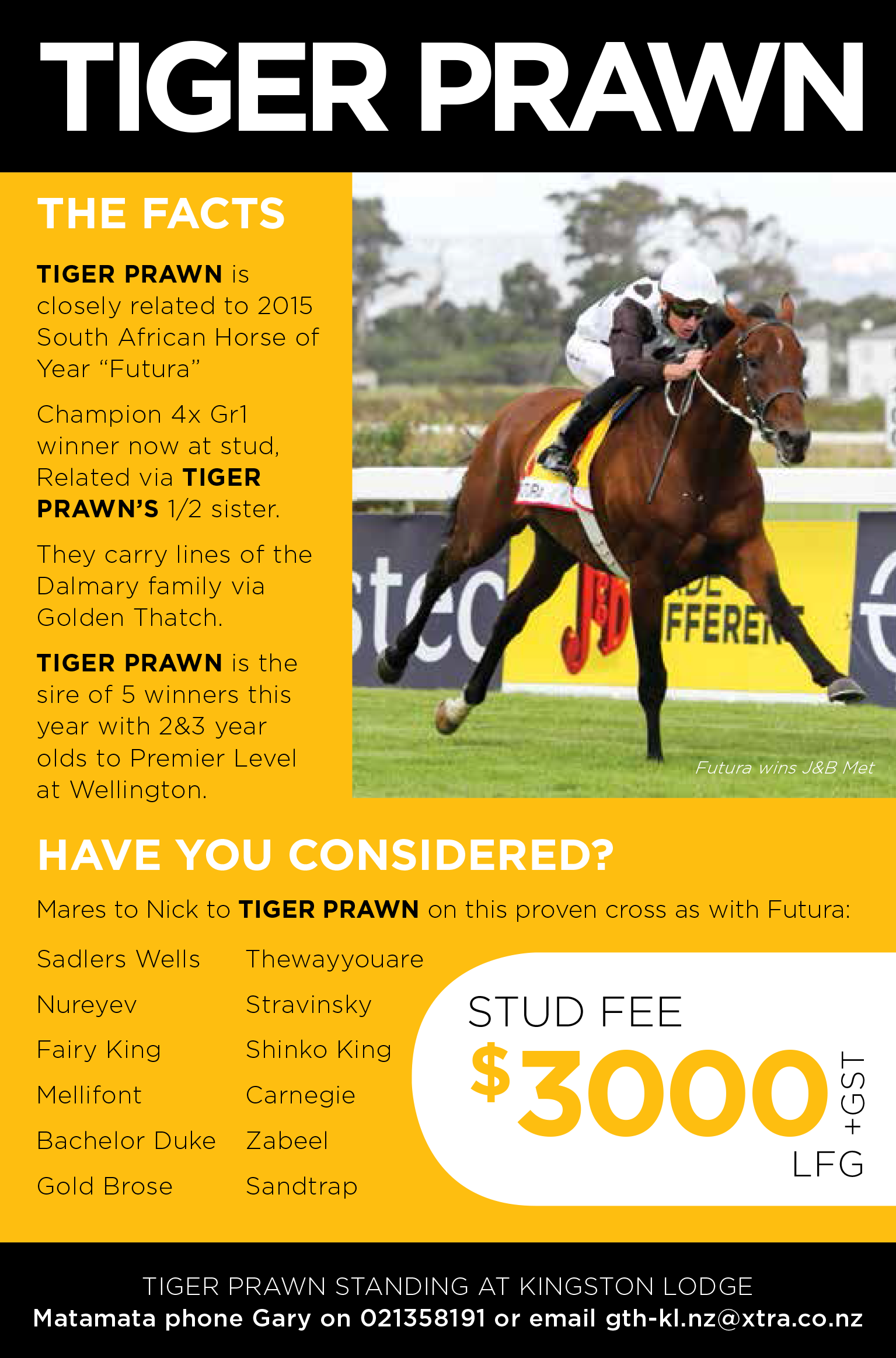 Racing Operations
Gary Hennessy has trained racehorses for over 25 years. During his career, Gary has amassed almost $2 million in New Zealand stake monies as well as over A$2.5m in stakes in Australia, including 3 Gr1 wins and a 2nd and 3rd Gr1 placings.
Training as well as breeding (see 'Gary Hennessy Breeding' page) is also a large part of their operation at their Hinuera Road property in Matamata.
A third generation trainer, this shines through when you look back at his racing history and experiences, a successful amateur rider, whilst still at school he rode and won a Steeplechase on his fathers horse Lord Grey – and by 10 lengths. In 1980, at the age of 20, Gary trained and owned his first winner. He then took out his professional training licence and within a few months Sooner Baby won her first two starts for him.
Buying and making champions is a critical part of the Hennessy operations. There have been some great horses through his hands, often trading to Hong Kong and not keeping to race, horses are often sourced at Sales, and sold on. Kesem was the beginning of the Hong Kong tading, broken in and pretrained as a 2 and 3 year old, he went on to win the Hong Kong International Cup, now a Group 1.
Markapura Star - who, in the mid 90's, had 3 straight wins and ran 2nd four times – in the Listed Lindauer Guineas, Wellington Breeders Guineas, TVNZ 2000 Guineas and the Listed Castletown Juvenile Stakes. He was then sold to Hong Kong, winning the HK$10million dollar Hong Kong Gold Cup, twice,HK Derby, HK Horse of the year and the first NZ horse to be entered into the HK Hall of Fame. He was a $1500 purchase.
Few could boast the successes that have been achieved in Hong Kong and these do not include:
Matamata Trainer of the Year
NZ Owner of the Year
NZ Horse of the Year
Runner up Australian Trainer Excellence Award.
Champer WFA Middle Distance NZ and Australia.
Owned and trained Cox Plate winner (Ocean Park) (View Breeding Page)
1st NZ trainer to have horse selected & race at Dubai World Cup $5million USA race
Historical Winners
Chase A Fortune – 9 wins at $176k in total stakes included: the Group 2 Travis Stakes, 2nd in the Group 3 Cuddle Stakes, The Group 3 Fayette Stakes, the Listed Sheraton, Group 3 Wellington Stakes and the Port of Tauranga Premier. Ran 3rd in Group 1 Thorndon Mile.
Spare A Fortune – 6 wins including the Group 3 Merial Mile, the Bluewater Premier and the Stella Artois Premier winner of $168k
Pindy – Bred by Hennessy himself under his Kingston Lodge banner, Pindy won the $100,000 Opunake Cup and was known as a great winter galloper. During his career he won a Listed and 3 Premier races earning over $220,000.
Khaya - ran 3rd last year in the Hong Kong International Group 1 Vase. She was an $80k purchase.
Mi Centie - ran 2nd Group 2 Matamata Breeders Stakes.
Grand Junction – won Wairoa and Taupo Cups
Tommy Tudor – won 10 trained for my mother, she bred him, he ran 14 2nd places including 1 to Horlicks.
Other very good horses include - All Chances, Serpei, Super Goal Strike, Sun Trooper, Deep Thinker, Firm Offer.
Horses To Watch
Promising youngsters coming through the ranks include:
2 year old colt x Rip van Winkle out of Creil
2 year old filly x Exceed and Excel/ Pleasant Sunday Girl
Testa Rossa/Flying Change – there are syndicate opportunities available – contact Gary immediately!!!
Pompeii Tiger
Fortune Kept
Ocean Emperor
Zabeel/Tootsie

Winning first up as a 3 year old.
Whatwedo
Econsul/Our Mountain girl

Multiple placed, won at 1200m heavy 10.
Temple Tiger
Contact
Gary Hennessy Racing and Breeding, at Kingston Lodge
Address: 320 Hinuera Road, Matamata
Email: info@garyhennessyracing.co.nz
Phone: 021 358 191